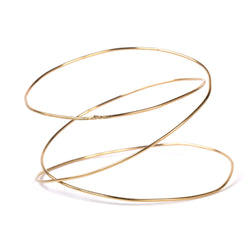 Chorthip
Triple Spiral URS Gold Bangle
The URS collection explores the beauty of imperfection and irregularity, inspired by the Japanese aesthetic Wabi Sabi philosophy.  As our "URS" bangles are being worn, they will take on their own unique shape and personality.
Made by hand in our studio in New York City with recycled, hand-drawn 18 karat yellow gold wire. The bangles are strong but soft enough to change shape over time.
Approximate inside diameter is 2.5"